Author Amy Sedaris is coming to speak at the Scranton Cultural Center on Wednesday, July 9th at 7 pm.  Tickets are available at all locations of the Lackawanna County Library System or just show your library card on the night of the event. Don't have a card? Sign up today!
We have several books written by and featuring Ms. Sedaris that we love! Check them out today!
 Simple Times by Amy Sedaris 
With her special brand of humor, Sedaris shows how to make popular crafts, such as tinfoil balls and crepe-paper moccasins; how to remember which kind of glue to use with which material; how to create your own craft room and avoid the most common crafting accidents; and, how to cook your own edible crafts, from a Crafty Candle Salad to Sugar Skulls, and many more recipes.
I Like You : Hospitality Under The Influence by Amy Sedaris
Are you lacking direction in how to whip up a swanky soiree for lumberjacks? A dinner party for white-collar workers? A festive gathering for the grieving? Don't despair.Take a cue from entertaining expert Amy Sedaris and host an unforgettable fete that will have your guests raving. No matter the style or size of the gathering—from the straightforward to the bizarre—I LIKE YOU provides jackpot recipes and solid advice laced with Amy's blisteringly funny take on entertaining, plus four-color photos and enlightening sidebars on everything it takes to pull off a party with extraordinary flair.
Borrow the downloadable eAudiobook today!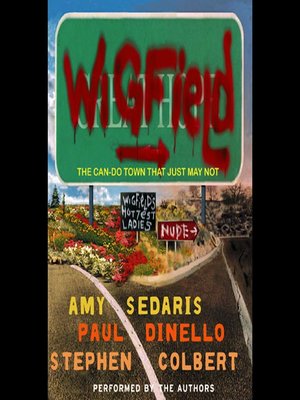 Wigfield: The Can-Do Town That Just May Not by Amy Sedaris
Wigfield is a small bucolic hideaway, situated in front of a massive dam which is about to be torn down by the state government to restore the salmon run. Wigfield's only hope lies in the self-righteous, self-involved "journalist" Russell Hokes, who arrives hoping to capture the quiet dignity of the disappearing American Small Town. However, Wigfield is nether quiet nor dignified. As the date of destruction draws nearer, Hokes casts about desperate to find something about Wigfield worth documenting. WIGFIELD is a razor-sharp satire by three major talents.
Borrow this as a downloadable eAudiobook today!
Check out her website at www.amysedarisrocks.com for more fun ideas and how to videos!